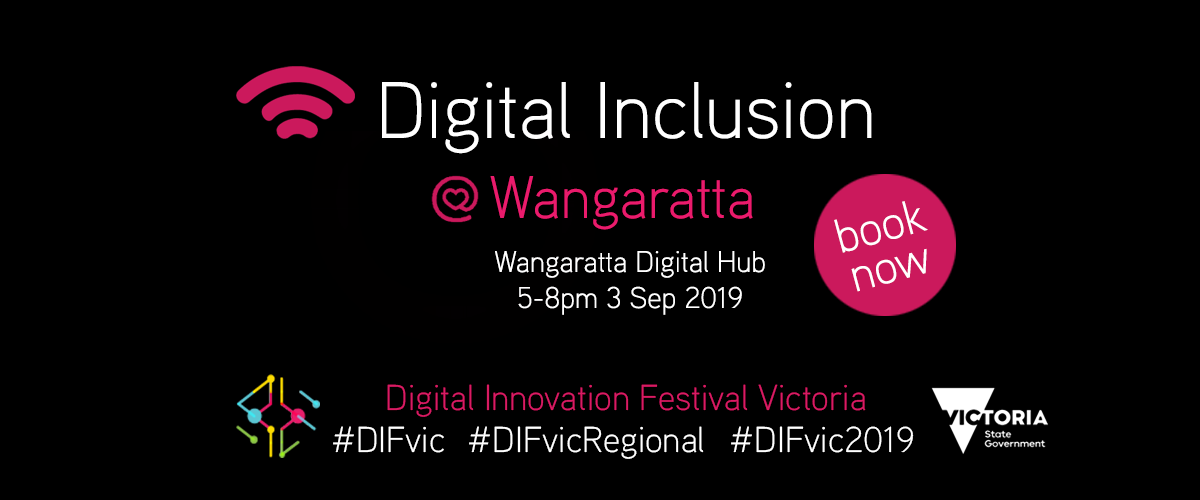 Find out all of the amazing tech for good available around the world and what is already happening in Wangaratta!
What is Digital Inclusion and what does it mean for a regional city like Wangaratta and surrounding rural villages?
How will we reduce the digital divide so that no one gets left behind and can thrive in a digital world no matter where they live?
Come along to learn, meet some inspiring people who know lots, some and/or nothing about digital in a relaxed evening at the new Wangaratta Digital Hub (adjoining the Wangaratta Library)
We'll start with a presentation and panel, followed by a break and then a facilitated session on how we can improve digital inclusion for everyone in Wangaratta and North East Victoria.
This is a FREE event, all made possible thanks to the Victorian Government. Make sure you check out all of the other great events happening during the Digital Innovation Festival. #DIFvic

This is a FREE event for everyone with or without digital skills!
The event will also be streamed live online for those unable to physically attend. Join in online via Google Hangouts https://meet.google.com/zvb-azgb-ndy

Please RVSP by booking your ticket for seating and catering arrangements. If you have any specific requirements or questions please email [email protected].
Add this event to your